Modernist Houses in Historic Neighborhoods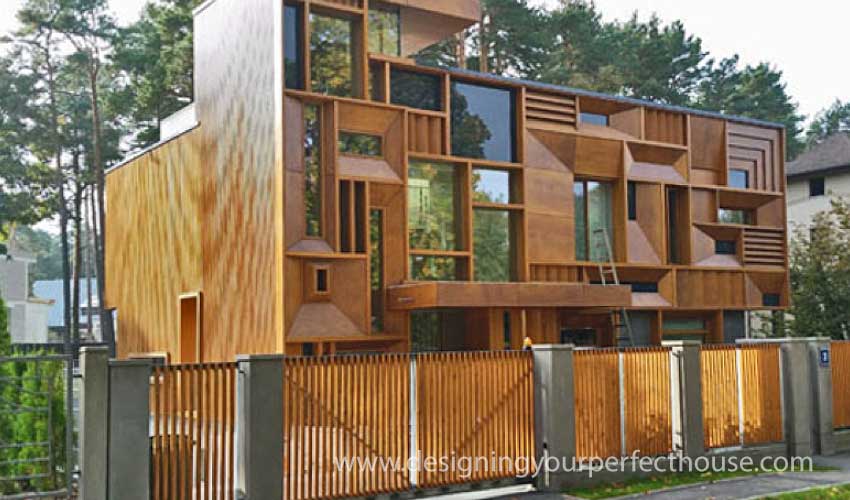 These days, the commonly accepted approach to "respecting" existing historic architecture when building new buildings in historic neighborhoods is to not try to mimic the traditional styles. I don't really agree with this philosophy, though. But, if you ask any of the architects or architectural historians who are a part of the "architectural cognoscenti," they will tell you that all new construction should be modernist in style so as not to confuse the observer into thinking that what is old is new and vice versa.
The photo above is of a modernist wooden house that was built on an empty parcel of land among the classic Latvian wooden houses in the Mezaparks neighborhood that we have been discussing in Riga, Latvia. It may be only my opinion, but to me, this piece of "Danish Modern Furniture" architecture is interesting and certainly required a lot of skill to design and build. But I fail to see how this enhanced the community of traditional and historic homes.
I would much prefer to see a well-done house that respects and "references" the wonderful proportions and details of the older houses. The houses in Mezaparks that are truly historic have emblems on their walls indicating their age and historic importance. For me, that is plenty of notice as to what is old and what is new.
This is an important concept when it comes to building new in historic neighborhoods. I'll talk about it more in future posts as we develop our design for our new house in Latvia.
Read more about my Latvia experiences here and here.
More Study of Architecture Topics