Decorative Wood Trim in Latvian Houses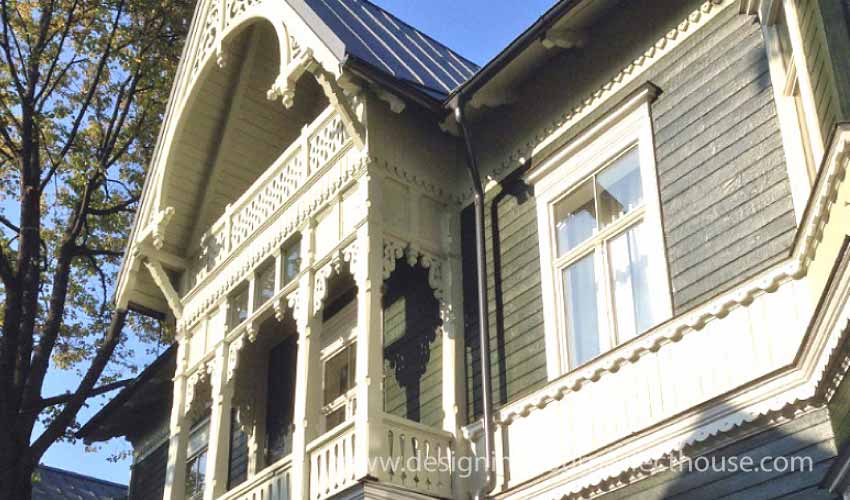 Call it "gingerbread" or call it "frou-frou," but either way, intricate detail in wood is the signature of Latvian Wooden Architecture from the early part of the last century. This house on the island of Kipsala in the river Daugava across from Riga is a great example. And it's wonderful to see treasures like this one being restored after years of neglect during the hard times in Latvia.
It's impossible not to like the appealing look of details like these, even if you may not want it for your own home. I like how the railing of this porch is continued, in a sense, all round the building in the form of a wide, detailed band that carries the trim color and many of the railing details. This gives the illusion of the second floor being set back slightly behind an implied railing.
But my favorite details I saw on my recent trip to Latvia are what I have dubbed the "Veiled Gables." That's what I call the laced detail that seems to hang like a diaphanous fabric from the gabled peak above the porch. It reminds me of a bridal veil. I can only imagine the dappled sunlight that goes through the carved screen and decorates the room behind it and the view up and out through it to the sky.
These days, with modern architecture rejecting fanciful detail as "oh, so gauche," it is nice to see whimsy and playfulness. It makes the architecture much more humane and friendly, don't you think?
More Study of Architecture Topics