The Television and Fireplace Location Dilemma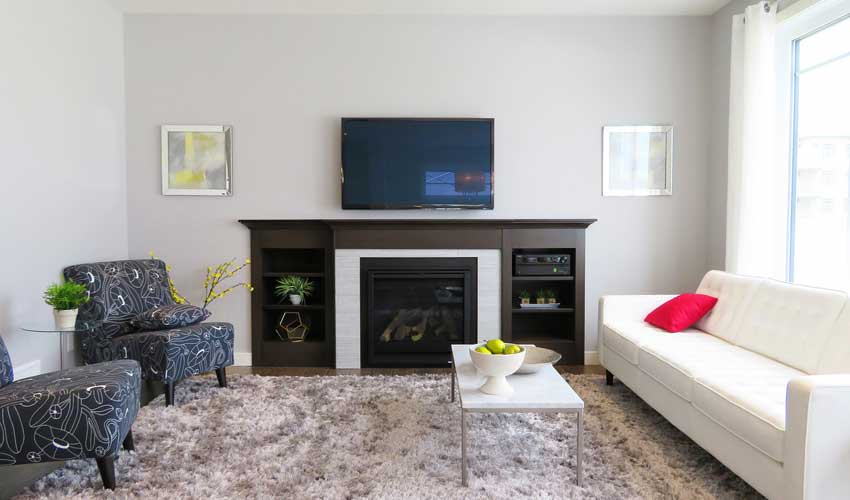 Your Family Room or Great Room may be difficult to design if you want to arrange furniture to view television and your fireplace at the same time. You are presented with what I call the Television and Fireplace Location Dilemma.
Traditionally, fireplaces were placed in the center of the wall. The furniture was then grouped around it. When television first entered the American home, the screens were small and the television was simply another piece of furniture. Today, television screens are large and arguably the most prominent feature in the room. Usually the television is placed on another wall, so it has enough space. But this means your furniture arrangement must "aim" at both the fireplace and television at the same time. This is pretty hard to do. One poor solution that often is presented is to place the television above the fireplace. This helps with the furniture arrangement, but placing the television at this height only works if you are lying in bed while watching. If you are seated in a sofa or a chair, this is too high and puts an uncomfortable strain on your neck. Are there any other solutions to this dilemma?
One way to get the fireplace and television on the same wall is to not put either one in the exact center of the room and to think of them as a combined element.
In one house I designed recently, we built one wide "pillar" of stone from floor to ceiling and put the fireplace opening in the right half and the television in a cabinet recessed into the stone on the left half. Then we centered the entire stone element in the room. Neither the television nor the fireplace was exactly centered in the room, but both ended up in good positions for seeing them while seated in the furniture grouping. Your eye reads the combined assembly and sees it as "centered" in the room and on the wall. You could do the very same thing without the stone and instead creating with a projecting drywalled element. Or, the grouping of the fireplace and television could be built into a paneled, cabinet-like assembly that would achieve the same goal.
Thinking of the television and the fireplace opening as being parts of a larger, unitized element will make the arrangement easier to handle and much more successful. You'll be able to arrange your furniture around this combined architectural element and have perfect viewing positions for both the television and the fireplace.
(Note: Images to be added soon)
UPDATE – I've gotten several requests for a photo that describes the fireplace and television cabinet combination I am describing. I've inserted it above. Hope it helps explain the concept.
ADDITIONAL UPDATE – Here is another arrangement of a television and fireplace combination that still preserves the traditional mantel look.
More Whole House Design Topics