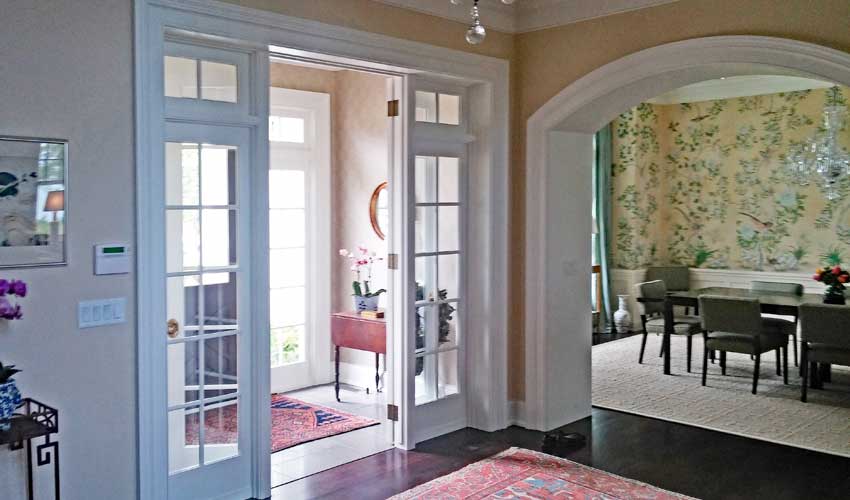 Selecting interior trim for your house can be a challenging task. But there's a good trick you can use to help you make the right choices.
Trim is known as "casing" and "crown molding" in the business of construction and architecture. It includes the pieces of wood around windows and doors, baseboards, chair-rails, and crown molding. Modern style houses usually have a minimum of casing or trim. But more traditional style homes might have quite a lot of casing and crown molding. Sooner or later, you will have to select and/or approve these items.
When it comes time to choose the design of the casing, your architect and/or builder may show you a catalog of trim shapes. These are usually a cross section view, or profile, of the piece of wood. And unless you've ever installed this material, you probably have never looked at a baseboard or window casing from this viewpoint and the section drawing looks unlike anything you have seen before.
It's much easier to choose from real physical samples. Your builder may roll his eyes when you ask for samples, but be firm and tell him it's essential for you. He, or his millwork supplier, can bring samples to the jobsite. They may show you installed samples in his office or in a showroom, but I think it's better to see mockup samples in your new house. that way you can see the choices in context. Have them nail up a couple of pieces around a door or window opening. Put up a few feet of the crown molding and baseboard.
But don't stop there. Here's my "trick" to help you. Don't leave the wood bare. The grain of the wood can be distracting and keep you from seeing the true shape of the trim profile. Have them paint or stain the trim in a color close to the color you will have in your finished house. This will give you a true look at the trim and you'll understand what the finished product will look like.
Doing mockups and reviewing several choices may take a little time. But it is worth it. After all, you'll be living with your choice of trim and casing for many years to come.
More Whole House Design Topics