An Architect Can Be Your Advocate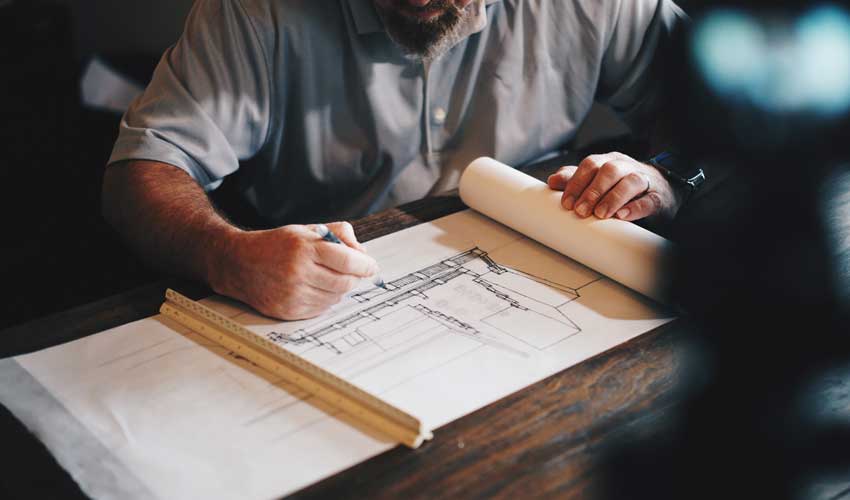 I comment on other websites from time to time. One very good website that deals with homebuilding and remodeling is www.askthebuilder.com. Not too long ago I commented on an article about building stairs. Another comment was posted there this weekend from a person who seems to be pretty frustrated with his builder. He wrote:
I'm having a townhouse built in Philadelphia, Pa and think the contractor is giving me a line when it comes to the steps going from floor to floor.

This is the problem as I see it. The contractor is telling me it's OK for the steps to be open on the left side as you go up. He installed a hand rail on the right side (going up) but nothing on the left. There is nothing there until you reach the ceiling height of the next floor.

I have searched the codes and can't seem to find anything about what I think is a No….No. I think there should a rail to keep people from falling off the steps on the left hand side as you go up. Who is right? Me or the contractor. Can you point me to the code so I can print it?
I feel bad for this fellow. He needs an architect to speak up for him and provide an unbiased opinion so the house gets built right. Here's how I answered him:
He's feeding you a line. The International Building Code requires a railing in this situation. It's under the section entitled "Guards", (Section R312), since it is considered a guard rail. Open sides of stairs require a railing if the rise is more than 30″. It sounds like you have a lot more than that. Your builder would get caught on this when he had his final inspection. No building inspector would ever let this slip by. It's a glaring error. Go Phillies!
He wrote back:
Thanks for the fast reply. I found the code, I think, I was looking for.
GUARDS R312.1 Guards. Porches, balconies, ramps or raised floor surfaces located more than 30 inches (762 mm) above the floor or grade belowshall have guards not less than 36 inches (914 mm) in height. Open sides of stairs with a total rise of more than 30 inches (762 mm) above the floor or grade below shall have guards not less than 34 inches (864 mm) in height measured vertically from the nosing of the treads. Porches and decks which are enclosed with insect screening shall be equipped with guards where the walking surface is located more than 30 inches (762 mm) above the floor or grade

Is this a national code?

I'm having a house built for resale in Philadelphia and have a builder who is driving me nuts. Somehow he has won the builder of the year award from Philadelphia Magazine in 2008 – 09. I think I know how he is doing it. He builds for himself to sell and I'll bet BIG BUCKS he only shows the houses that belong to him. That is the only way he could pull that off. Every time I would go to the house it would be something new. Most of the people he has working shouldn't be allowed to push a broom on a job.
Oh how I hate to hear stories like this. It gives the good builders black eyes. I answered again:
Every jurisdiction adopts whatever Code they like. They are written by national organizations and then adopted, with local provisions and alterations, for the local jurisdiction. But all of the Codes are really similar. And, most places are now using the International Building Code. I'd bet you a couple of World Series tickets Philadelphia uses the International Code.

Did you builder pull a building permit for this project? I would expect so. He sounds like a complete rookie if he doesn't even know the guard rail provision.
Yes, of course you can usually count on your builder to know the Building Code. And you can usually count on him being honest and hard working. But many times during the building process, it's valuable to have someone knowledgeable who is completely on your side. I would venture a guess that this builder would respond to this issue very differently if the owner had an architect there to speak up for him. The builder would know he couldn't get through a problem with smoke and mirrors.
Did I mention, "Go Phillies!"
More Whole House Design Topics