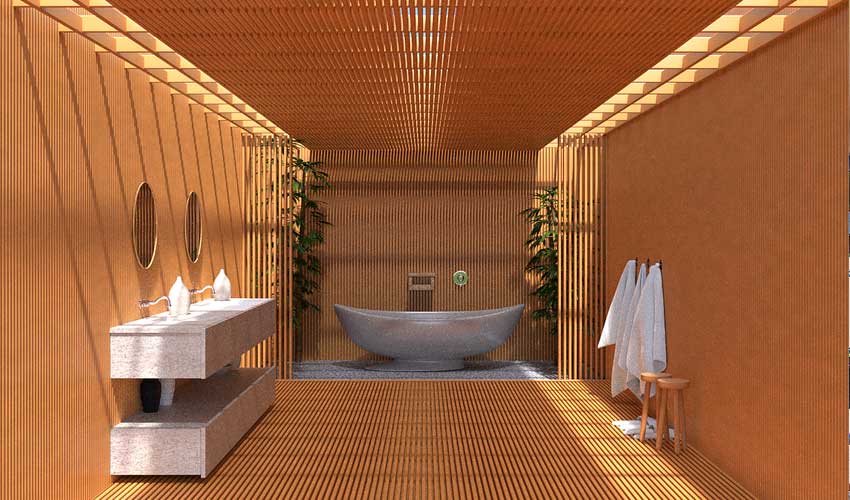 Luxury Bathrooms
What are the current trends in house design when it comes to the design of luxury bathrooms? Well, bathrooms are not just a utilitarian room anymore. It's all about the "spa" experience. Let me run through a few bathroom design and amenity requests I hear more and more.
The bath is now the oasis, the place to retreat from the hectic world. soaking tubs are still there, altough more people claim they don't have time to use them. But those people who do like them to be an experience. Reading, meditating, and just zoning out are the attraction. Plus spa tubs add to the look of the room, giving you the sensation of being somewhere you could relax, even if you don't have the time right now.
I'm getting more requests for showers with no glass, no door and no curb. People have tired of cleaning the glass walls of a shower. They they love the look, but don't like having to squeegee down the glass after they take a shower. Many people prefer having no glass except for the glass door. But even better, if you can make the shower area large enough, you can have a direct "walk in" arrangement with no door, at all. The entire shower can be tile or stone. The entrance area becomes a great place for towel bars and drying off. Having no curb is appealing to people, particularly if they anticipate aging in place and they don't want to be forced to move out of their house if they ever lose mobility.
There is certainly a trend toward more shower heads, body sprays and rain head showers. These don't help with water or energy conservation. But the trend is toward making your bathroom your own personal spa. If you opt for more water sources, be sure to have the mixing valves properly sized so the spray shoots out and doesn't just dribble.
Air tubs are replacing water-jet whirlpools. This is because the air tubs let you use oils and bubbles without worrying about gumming up the plumbing. The motor for air tubs can be located in a remote location. This reduces the noise. Water-jet tubs can't do that.
Heated tile or stone floors are more common. They are easy to install with electric powered mesh mats that are installed just beneath the tiles. They can operate on a timer so the floor is warm when you get up in the morning and then turn off later so you won't have to remember to do it. Heated towel bars warm the spirit, too.
Lots of storage is critical. People need places for all of their things and they want them conveniently located. How many potions and appliances do you have? Wouldn't it be nice to have a home for all of them, leaving you an uncluttered countertop?
A separate room for the toilet and/or bidet are standard for luxury baths. Sometimes there are even separate his and hers toilet areas.
Sit-down makeup vanities are much more common. Sometimes these are next to one of the sinks. But more and more these vanities get their own location, possibly even within the large master closet, provided the closet is more of a dressing room and not simply a place to hang clothes. It's nice to provide a tiny sink at the makeup vanities so there is a water source.
Multiple types and levels of lighting are great. This lets you have one type and level of lighting for shaving and tooth brushing, but another level for relaxing in the soaking tub. And don't forget about the light needed when it comes time to clean your spa/bathroom.
Regarding soaking tubs, there seems to be a trend toward deeper tubs that are smaller in footprint and not small swimming pools. It's a philosophy similar to the tubs in a Japanese ofuro, except we don't bath before entering the tub like they do. Still, the deeper tub allows full immersion in a slightly more upright position.
Privacy gardens are nice. This would be a garden visible only from the bathroom with a surrounding wall high enough to provide privacy without the use of window blinds or shades. This can give the bathroom a wonderful outdoor feel, even in climates that don't permit outdoor living year-round. Sliding or patio doors can allow access from the bath to the privacy garden. And where the climate is right, the garden can even contain an outdoor shower, all in total seclusion and out of the view of the neighbors.
More Bathroom Design Topics