Dealing with High Ceilings in Small Spaces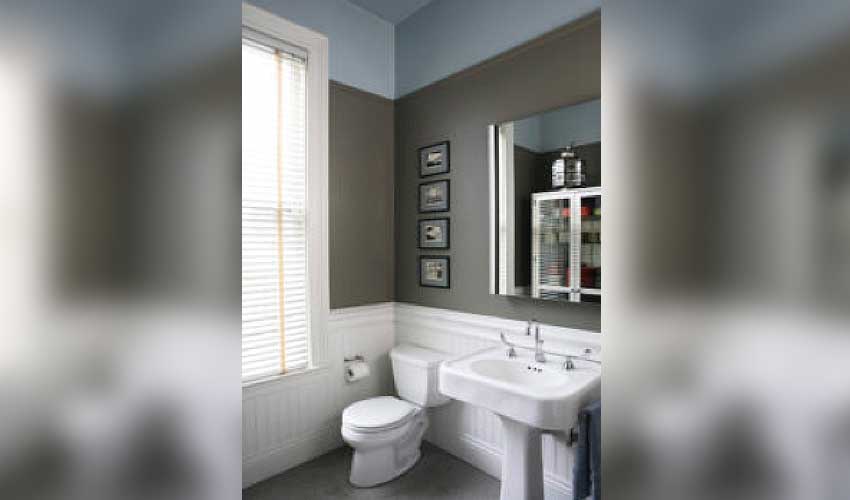 The dreaded "elevator shaft" effect. That's what you can end up with in small rooms with high ceilings.
In high-end houses, ten-foot high ceilings, and above, have gotten to be standard. High ceilings make rooms feel larger and more spacious. But in small rooms, such as a powder room, a room that might only be 6'x6', a ten-foot ceiling or higher can make you look for the elevator "down button." Did you know you can use mouldings and colors on a wall to make tall spaces appear more human sized? I recently received this question from a reader:
"We have a powder room with ceiling 12 feet high. What suggestions do you have so it doesn't look like tunnel?"
My Answer: 
"Good question. You could use a trick used in old houses with very high ceilings. These old houses had such high ceilings to let the summer heat rise and make the rooms more comfortable. What they did to limit the "visual height" was to place a piece of crown moulding with a small shelf on top, kind of plate rail arrangement, at the desired visual height of the room. The wall below this "cornice" was painted the wall color or wallpapered. The wall above the cornice was painted the ceiling color. There was no moulding placed where the wall eventually met the ceiling. This little trick would make your eye "stop" at the cornice and the uppermost portion of the wall would visually blend in with the ceiling thereby causing the viewer to perceive the room to be at a lower height than it actually was."
If you have an elevator shaft room in your house, you might want to try this tip to see if you can bring that elevator down a few feet into a more visually comfortable position.
More Bathroom Design Topics