Don't Make Your Vessel Sink Too High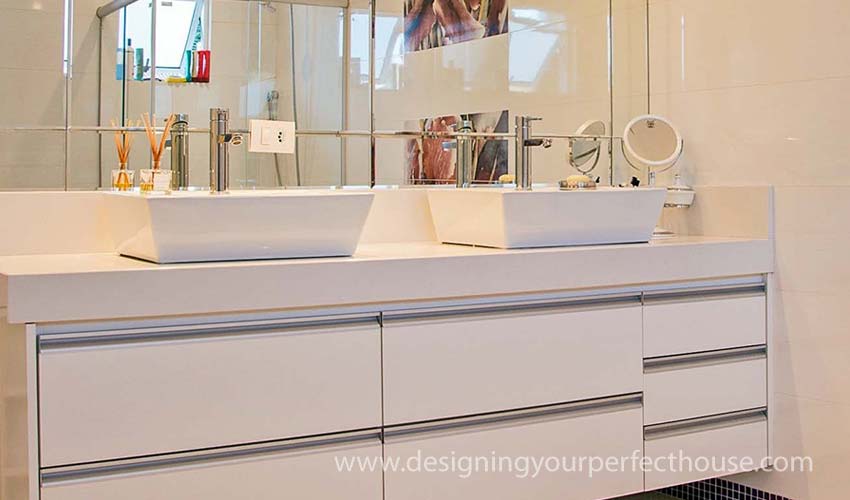 What height should a vessel sink be above the floor? I was asked that recently. Here's the question:
"What is the recommended vanity and countertop height for a 5 inch vessel sink?
The countertop we have is 3/8 inch, but the vanity base the company ordered for us is 34 1/2 inches tall which makes the whole combo roughly 40 inches tall. I'm only 4′-11" inches tall, but my husband who is 5′-10" said it feels high to him. Your recommendation is greatly appreciated."
People don't think this through and too often set a vessel sink on top of a standard height cabinet and top. This results in the sink being too high for comfort for almost anyone not in the NBA.
I like to refer back to a couple of "standard" sink heights. Kitchen sinks are normally set 36" above the floor to the rim and have been for a long time. This is the height of a standard kitchen countertop. Bathroom vanities used to be only 30" above the floor to the sink rim. That is typical table height. Granted, people were shorter in the past, but that was uncomfortably low and hard on your back for most people.
But that has changed and most bathroom sinks that are recessed into the countertop are now set at 36" above the floor. Much more comfortable. However, now with the growing popularity of vessel sinks that sit on top of the countertop and are not set down in the countertop, we need to rethink the vanity height and cabinet size.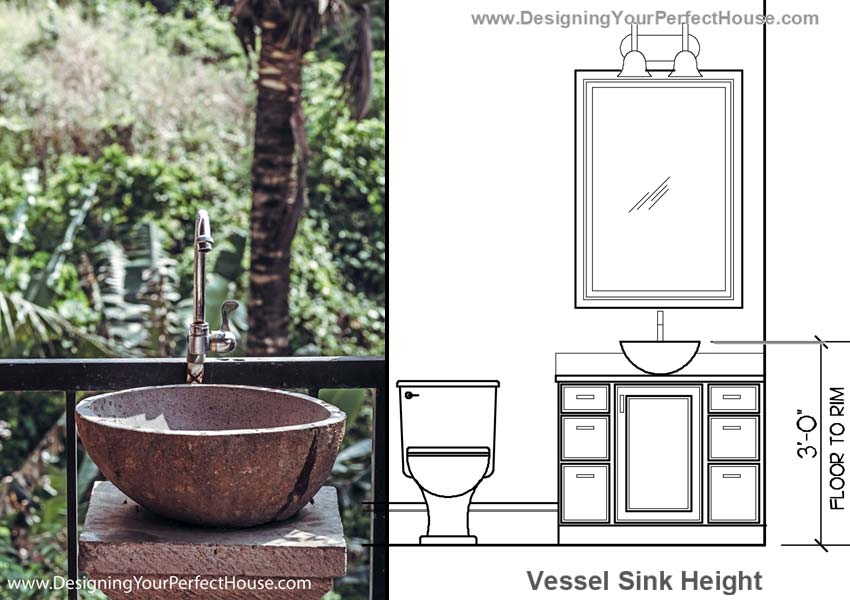 Vessel sinks need to be set on top of lower countertops to get the rim of the sink to be at 35" to 36" above the floor, approximately the same height the sink would be with an undermount sink in a 36" tall vanity. Use the shorter cabinet. With a 5" or 6" tall sink on top of an "old-fashioned standard" vanity cabinet of about 28 ½" plus a 1 ½" thick top would set the sink rim at about 35" or 36" above the floor. This should be comfortable for most of us.
Very tall and very short people should make adjustments for their own stature. Don't do things just because everyone else does. If you plan to be in your house for a long time, make it fit you rather than you accommodating it. After all, it's your house. make it perfect for you.
More Bathroom Design Topics