Bathroom Remodeling on a Budget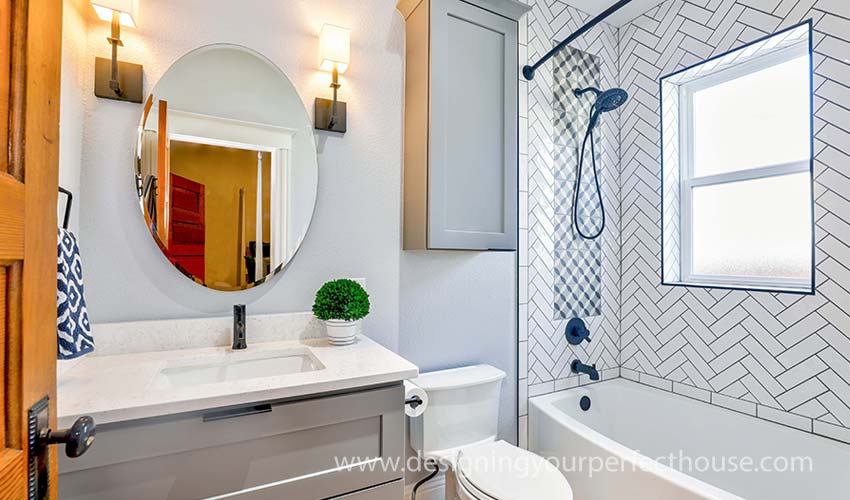 Sure, bathroom remodeling is easy if you have a big budget. Just rip out everything and start over. What if you're looking at a bathroom remodeling on a budget? What's a person to do if they have limited funds and a bathroom that is in dire need of a facelift? Well, there are several highly effective, but low cost changes you can make. Here are some suggestions listed from least costly to most costly.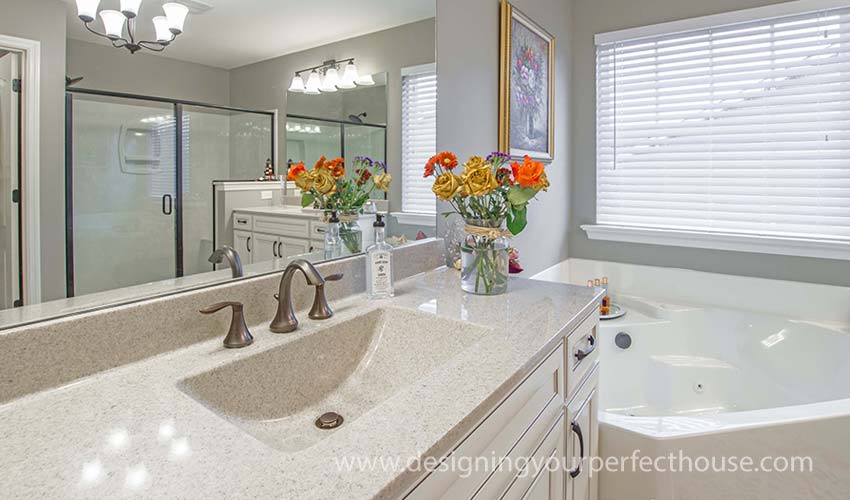 The least costly bathroom remodeling upgrade is to change the cabinet hardware, towel bars, and paper holder. Although these are small items, the say a lot about the condition of the bathroom, especially if the ones you have are broken or missing. Colors of metals go in and out of style. Right now, bright brass is out of favor and bathrooms with all "yellow" metal look dated. Swap the brass out for brushed nickel and you will instantly be back in style.
Next in order of cost is fresh paint. This may be the single most effective thing to do when doing a bathroom remodeling on a budget. A fresh coat of paint in a new, trendy, and uplifting color can make a huge difference in a bathroom and does not cost much. But no matter what your budget is, please don't go too cheap on the quality of the paint. Low quality paint is a waste of time and money. You want to use a paint that is durable, washable, and covers well. I usually advise my clients away from glossy paints because they will show every blemish in the surface and they are impossible to touch up. If you need to touch up a spot, you will be doomed to recoat then entire wall to get it to look right.
Changing Hardware and Painting are Effective and Relatively Cheap Tactics for Bathroom Remodeling on a Budget
I mentioned blemishes in the surface of the walls. This is a critical part of painting. Most of your work should be in the preparation. No paint will hide lumps and dents in the wall surface. Be sure to spend enough time spackling and sanding to get a super smooth surface before painting. Consider applying one coat and then check for more blemishes and spackle those spots again before applying the final coat. Check for blemishes at different times of the day. Different lighting will show different things. If you obsess about this step you'll thank yourself in the end.
If you're changing the cabinet hardware, you might want to change those plumbing fixtures, too. The faucets are the easiest to change and can have a dramatic aesthetic effect on your bathroom remodeling. Just be sure to select faucets that fit in the holes you already have in the countertop. They aren't all the same. Some have one hole, some have three holes, and the holes might be spaced differently for different faucets.
For a few hundred dollars more, you can replace the toilet. This is the fixture that gets the most use and can look the worst. Consider a comfort height model. They are more and more popular. And NEVER get a round bowl toilet unless nothing else fits in the room. They look cheap and they are uncomfortable to use. Always choose the elongated bowl variety for more comfort and style.
Replacing the vanity cabinet can be a bit more costly and may not fit into a bathroom remodeling on a budget. Sometimes it's possible to just change the doors on existing cabinets. But often the cabinet needs more repair than that. The drawers may not work correctly anymore or the hinges are shot. However, if the cabinet is functionally sound, replacing it just to change the look may not be worth the cost. Try cleaning it up and possibly painting it with a good alkyd (oil based) or acrylic paint, like Sherwin Williams Pro Classic to get a hard, smooth finish that's almost as good as a factory finish. Here again, the prep work is the key. Fill blemishes with Bondo and sand, sand, sand.
New Countertops Have a Big Impact
Going further with the bathroom remodeling, you might think about replacing the countertop and possibly the sink. The sink will be the smaller cost of the two. A simple oval under-mount sink is less than $100. Solid countertop surfaces like granite, quartz, or Corian are expensive. However, the countertop in a bathroom is not nearly as large as in a kitchen. Since these solid surface products are sold by the square foot, a new top might just fit into your budget. Try looking through the "off-cuts" or remnants at the countertop company. These are leftover pieces cut from large slabs they used for bigger projects. Chances are you can find a piece you like that will fit your bathroom and come at a discount of up to 20%.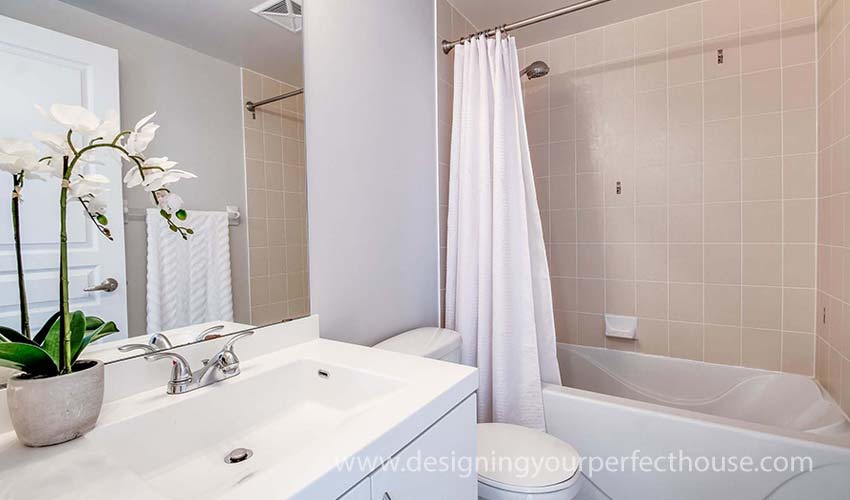 If you do all of the things listed here, you would still qualify as doing a bathroom remodeling "on a budget." The aesthetic effect and your personal enjoyment will be dramatic. Beyond these items, things start to get more costly and possibly more complicated. Changing tile is not an inexpensive venture. Neither is rearranging fixture locations, changing tubs, building new showers, adding steam showers, and such. I won't discuss them here in Bathroom Remodeling on a Budget. You can read about them in my other articles about bathroom remodeling.
More Bathroom Design Topics