Aging in Place: How to Adapt Your Home to Be Livable for Years to Come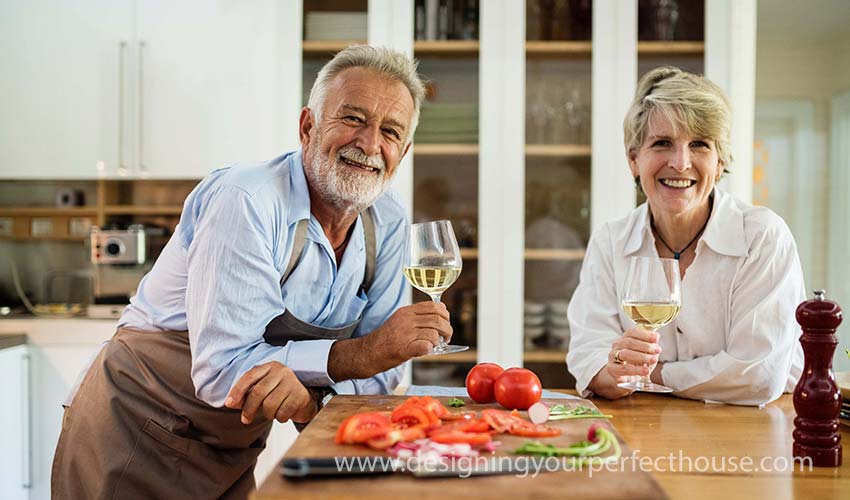 As we Baby Boomers start asking for the senior discount at every store and theater, we also start considering how and where we might live out our so-called Golden Years. Remember when we wouldn't trust anyone over thirty? Many of us will head to Florida or some other warm climate. But others will choose to stay in their current homes near friends, family, churches, and other places that have become integral parts of their lives. There is a growing trend toward what's called "aging in place." The term applies to those who want to live as they have in their current home for as long as possible and not be forced to move because of change in mobility or physical capabilities.
As we age, simple things like stairs and steps can become a challenge. Balance, vision, hearing, and mental processes can deteriorate. We lose strength. Will your current home allow aging in place by accommodating your physical changes? Normal everyday things that once seemed benign might become obstacles and hazards. The good news is that a number of relatively simple modifications to your home can make it pleasant and safe to live for many more years to come.
You can't predict the future, but you can plan for the future. Here are a few things you can do to make your house easier to live in if you become less mobile.
Plan for One-Floor Living
When aging in place, you will find stairs to be your biggest obstacle. If your bedroom is upstairs now, take a look at your plan and see if there is a way to alter the use of the rooms on the first floor to allow you live on the first floor and leave the upstairs for guests. This might require adding a bedroom and bathroom suite on the first floor. Or you might be able to convert a seldom-used formal living room into a bedroom. If you don't have existing rooms you can repurpose, check to see if you have some additional space on your property to build an addition. Saving the costs of moving and realtor fees will help pay for the additional construction. And you'll be adding value to your house.
Make Other Floors Accessible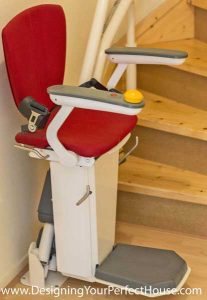 If one floor living is not feasible, look for ways to add an elevator or stair lift. Is there a closet that can convert to an elevator? Less costly than building an additional bedroom suite, an elevator or lift can be planned for but deferred. Then they can be added quickly if the need arises.
Make the Entry Accessible
One of the most important modifications you must make to facilitate aging in place is to alter at least one entrance to the house to have no step. This entrance should be covered to shelter it from snow and rain. Often this is the door into the house from the garage. If you have a few steps up to the house now, a ramp can be built. But remember that a proper ramp can't be too steep. It should only rise one foot for every twelve feet of horizontal run.
Eliminate Tripping and Slipping Hazards
Be sure to remove any raised thresholds at interior doors or uneven transitions between rooms. These small level changes can be particularly hazardous because they are easily overlooked and create tripping hazards. Eliminate floor surfaces that can become slippery and replace them with non-slip tiles, wood floors with slip-resistant finishes, or low-pile carpeting. Avoid loose area rugs.
Make Sure Your Doorways are Wide Enough
When aging in place, a wheelchair may be in your future, even if it is only temporary while recovering from an injury. You'll want to be able to pass through your doorways. There are some misconceptions about the required width for access. The American Disabilities Act, known as ADA, mandates a clear opening width of 32".
That would mean a 36" door since a door opened to 90 degrees would protrude into the opening and reduce the clear width by about two inches. You probably have only one door that wide in your house. Your front door. Breaking through walls to widen doors is just not practical. Fortunately, you do not have to comply with the ADA requirements like public buildings do. Typical wheelchairs are only 24" to 27" wide. The 32" requirement is meant to accommodate all wheelchairs, even extra-wide wheelchairs. So unless you are a very large person, there is no need to have doors that wide. I would recommend you make sure your doors are at least 30" wide. 32" is even better. If a door is still too narrow, you can rehang it with offset hinges to allow it to swing farther out of the way. If none of that works, the entire doorway can be replaced with a wider one. But of course, that can be an expensive alteration.
Maneuvering Space is Essential
ADA requires a five-foot diameter clear floor space in all rooms, particularly bathrooms. The swing of a door cannot intrude into that space. A Drawing Goes Here The purpose of this clear area is so that should a person fall to the floor and not be able to get up, another person could enter the room to help. If the room is too small, the fallen person would block the door from being pushed in and opened. This is the reason handicapped stalls in public bathrooms are so large with doors that swing out. Chances are you do not have this much clear floor space in your bathrooms. The solution is to rehang the door so it swings out. Then no matter where the fallen person is, a rescuer could open the door and get in. One other option is to simply remove the door all together.
Install Grab Bars and Additional Railings
Things we do every day, like getting in and out of showers, on and off toilets, and even walking down a hallway can become difficult when aging in place. Installing good, solidly anchored grab bars in showers, tubs, at toilets, and even along hallways can give security to those who are less stable. Grab bars encourage people to stay ambulatory and not have to use a wheelchair. The more we all walk, even slowly, the healthier we remain.
Install a Shower Seat and a Hand-Held Shower-Head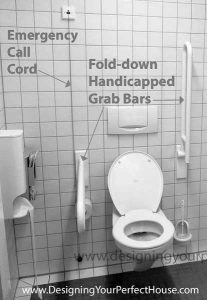 This is a simple change to allow aging in place. Showering while seated is the most convenient and safe way to bathe with diminished mobility and balance. A shower seat does not have to be built in. A heavy teak stool can work. Just get one that is designed to not tip easily. A shower seat with good grab bars will make it easier to get in and out of the shower, even if you are transferring from a wheelchair. If you are building a new house or remodeling, consider installing a new shower without a curb. It makes entry and exit much less hazardous.
Change Door Knobs to Lever Handles
Lever door handles have been customary in Europe for centuries. But in America, we have traditionally used knobs. These can look great, but once your hands weaken and become arthritic, door knobs become barriers. Consider swapping knobs for levers that you can use by leaning an elbow on them. You'll find them to be easier to use with wet hands, too. This change to levers applies to faucets, too.
Miscellaneous Changes to Make Aging in Place Easier
Improve lighting in the house. Install a toilet riser seat. Install slide-out shelves in cabinets. Change cabinet knobs to D-shaped handles. Change to LED lights for much longer bulb life and lower energy costs. Install smoke alarms and carbon monoxide alarms with a siren and a flashing light. Install battery-operated emergency lighting in hallways. Do things to reduce the required home maintenance. And of course, install an emergency call system, especially if you live alone.
I think it is a wise and happy decision to live in the home in the location you have come to love. Having family and friends nearby is a blessing. If you do a little planning and do a few modifications, your house can be your home can be perfect for aging in place.
More Whole House Design Topics