Barn Doors Are Great, but Not Everywhere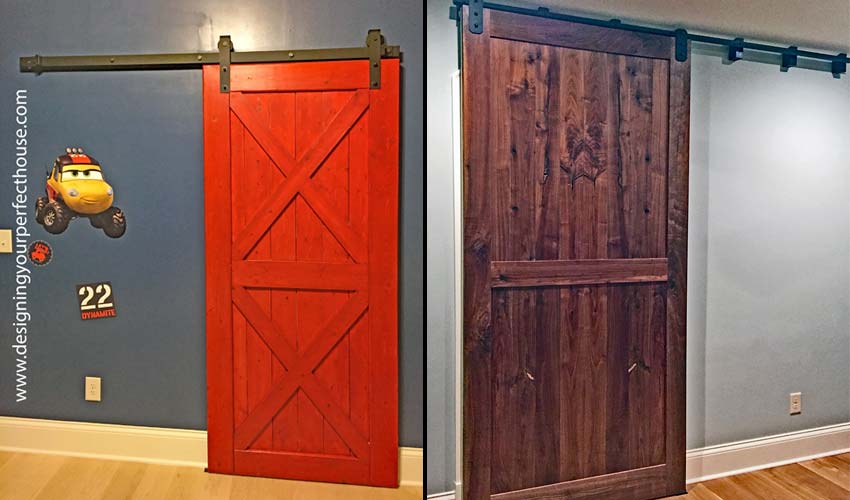 Barn doors have been rapidly replacing pocket doors in newer, more stylish houses. They certainly make a design statement, whether done with a rustic look or a smooth and painted look. Barn doors are often used in places where pocket doors might have been used in the past. Unfortunately, pocket doors carry a connotation of being cheap and constantly falling off the track. I tell you how to solve that problem in blog post, Pocket Doors that Work.
Barn doors have a major functional advantage over pocket doors in that the rolling hardware and track are exposed and can be easily accessed if problems arise. And whereas pocket doors strive to look like all the other interior doors in the house, barn doors are usually a design statement unto themselves.
Rustic, "barn-like" barn doors draw attention and become a feature of the room. Refined, smooth, painted barn doors make a statement via the distinctive hardware and large door size. Pairs of barn doors that open one panel to each side can cover wide openings allowing the option of having two rooms wide be open to each other or separated for privacy.
But barn doors have their own considerations that may make them be the wrong choice in some locations. First, barn doors need some place to "park" when they are open. They need an expanse of wall to overlay. And that expanse of wall cannot have light switches, electrical outlets, light fixtures, or artwork on them. And no furniture can be placed against that portion of the wall unless you set the furniture out from the wall enough to allow the barn door to slide behind it.
The second and less often considered shortcoming of barn doors is privacy. Barn doors do not close tightly. They overlay the trim of the door and substantial gaps remain between the door and the surrounding wall. This is a problem, especially on bathroom doors, where sound isolation is needed. Bedroom doors can present the same issue of no sound separation while also allowing large light leaks around the door. A closed barn door is the equivalent of leaving a swing door ajar by a few inches. No privacy.
Used in the right places, barn doors can be great. Pantry and closet doors, room separation doors, and doors to rooms that do not need privacy are great places for them. One additional note, when determining the size of the barn door. Make it big enough to cover all the door trim (casing) on the sides and top, when it is closed. If it only covers the door opening, it will look silly.
More Whole House Design Topics