Window Safety and Building Code Requirements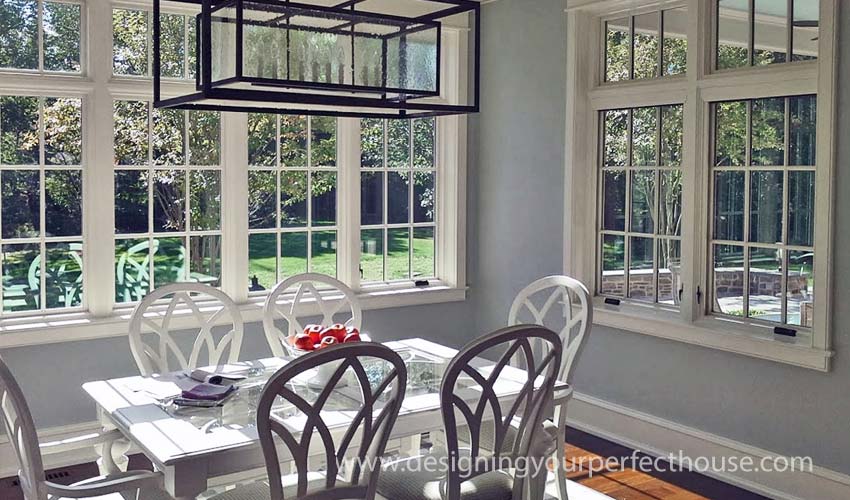 Windows are an important part of any house. They are critical to the look and aesthetic of the house. but they also serve specific functional needs. Residential Building Codes have requirements for window safety, energy performance, and a minimum amount of daylight and ventilation for rooms. Safety requirements dictate which windows must have safety glass and/or meet egress requirements. Your architect designer, builder, or window dealer can help you make sure the windows you choose meet the Building Code. But two of these considerations deserve some additional explanation because they can have an impact on your design and budget.
Most house windows are built with standard strength glass. But depending on the location of the window within house, special glass may be needed. If a window is close to a door, above a bath tub, on a staircase or landing, or if the glass is within 18 inches of the floor, tempered glass or safety glass will probably be required.
Tempered glass is much stronger than standard glass and if it breaks, it shatters into small, round-edged pieces instead of breaking into dangerous shards. Safety glass, also called laminated glass or monolithic glass, is made with a plastic film sandwiched inside the glass that keeps the glass from breaking into shards and falling away. Car windshields are made of safety glass. It's a good idea to keep this in mind when deciding on your house window placements and sizes. You may want safer glass in other locations that the Building Code does not demand. For instance, a child's bedroom or playroom might be candidates for tempered glass just in case toys get thrown around. Think back to your own childhood. It happens.
However, tempered glass and safety glass are more expensive that standard glass. If you have numerous windows with window sills close to the floor, the cost of your windows will increase quickly. If you are looking to save on your construction costs, you might want to consider raising the sills just a couple of inches might save you hundreds or thousands of dollars on the price of the windows.
Building Codes have requirements for minimum glass area to provide daylight to any habitable room (with exceptions). It also stipulates ventilation minimums. This is all spelled out in your local codes. Consult them for the exact requirements in your area.
For the safety of the occupants, building codes also require that any sleeping room must have at least one window that meets the requirements as a "means of egress," or a way for emergency exits. This means of egress provides a second way to get out of the room in case a fire blocks the primary exit or stairs.
The 2009 International Building Code, the code that has been adopted in most jurisdictions, requires an egress window to have a minimum clear opening width of 20 inches, a minimum clear opening height of 22 inches, and an overall clear opening area of 4 square feet. Also the clear opening can be no more than 44 inches above the floor. Your house window dealer or the manufacturer's catalog and specifications can help you make sure your house windows comply.
If you live in a coastal area, a hurricane region, or other high wind location, your local Building Codes may have additional requirements for window safety that may demand impact resistant glass. Flying objects during storms can be lethal. Impact resistant windows can help keep you safe.
In addition to window safety requirements, building codes establish minimum energy efficiency standards. These include heat transfer minimum and air infiltration minimums. Naturally, these requirements vary with geographic regions. Your architect and window dealer can help you understand and comply with these window safety and energy requirements.