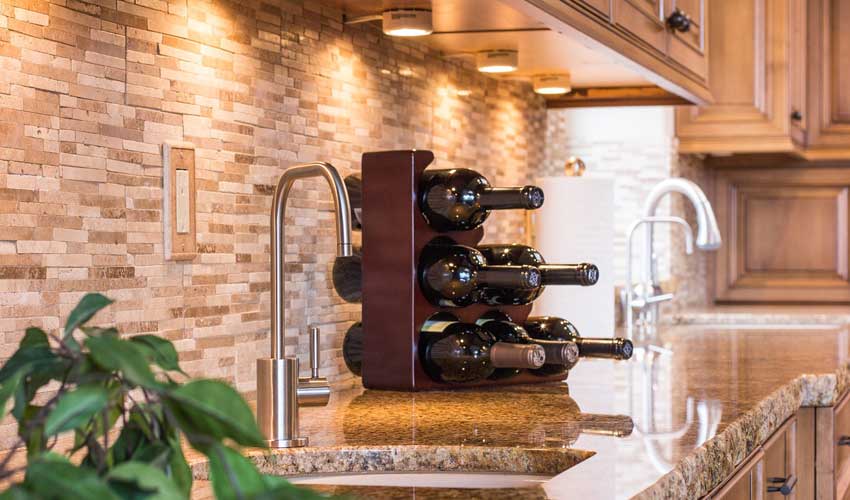 I received a question from a reader about radon emissions from granite countertops the other day. I wrote a blog post about this a while ago. But this question comes up over and over again, so I thought I would post her question and my answer in the hopes it would be helpful to others.
Question – I am thinking about purchasing granite countertops for our kitchen and bathrooms, but I have been reading some horror stories about granite and radon. Now I read your web site, and you say not to be concerned. How can I be sure that the granite I'm chosing doesn't emit radon? I am honestly very worried after reading about it online, but then you say it's not true at all.
My Answer – Thanks for the question. The real issue is not whether granite emits radon. It does. Some types emit more than others. The question is whether this is a problem or not. The amount of radon emitted by granite is very small compared to the radon that is emitted by the earth beneath your house. Just look at the size difference. Does the amount of stone in your countertops come close tot eh amount of stone in the ground beneath your house? It's not even close.
Radon seeps from the ground and it can become a problem when it gets trapped by your house. Your house acts like a hat, preventing the radon from rising up into the atmosphere. If a house has a radon problem, the cure is to ventilate the space beneath the basement slab or the crawlspace with a small fan, thus "untrapping" it. It does not take much air movement to rid the house of radon. When houses have radon problems, it's because the enclosed crawlspace or basement trap it and don't let it dissipate. Your kitchen is certainly not an enclosed space. It would be very hard for radon to build up in there to harmful levels. The fact that a kitchen is open to other rooms, doors open and close, exhaust fans run, etc. means that any radon is vented out and never can build up to a level even close to being harmful.
The bottom line is this. For your granite countertops to present a radon health issue, you would need much more granite than a typical kitchen would have, it would have to be a high emitting granite, you would need to keep the kitchen tightly sealed for long periods of time, and you would have to live in there, sleeping on the countertop, for years before this would be a real health issue.
The detractors of granite are the producers of other countertop materials. Every few years they trot out their videos showing the radon meter indicating elevated radon on the surface of the granite. But they unfairly omit the full facts, leaving the viewer with the impression that granite is dangerous. You never see them give radon readings elsewhere in the rooms. They put the meters right on the granite. It makes me wonder how people have lived in stone houses for so many years. No one worries about stone floors or fireplaces. This issue is simply a competitor taking unfair pot shots at a rival based on partial information that plays on people's fears.
I hope that explains it for you. But if you are stilled worried, there are other countertop materials to choose from. Granite is very nice and, in reality, is no heath problem. But worry is unhealthy. So choose the material that does not worry you.
More Building Materials Topics