Building Materials – You Have Lots of Choices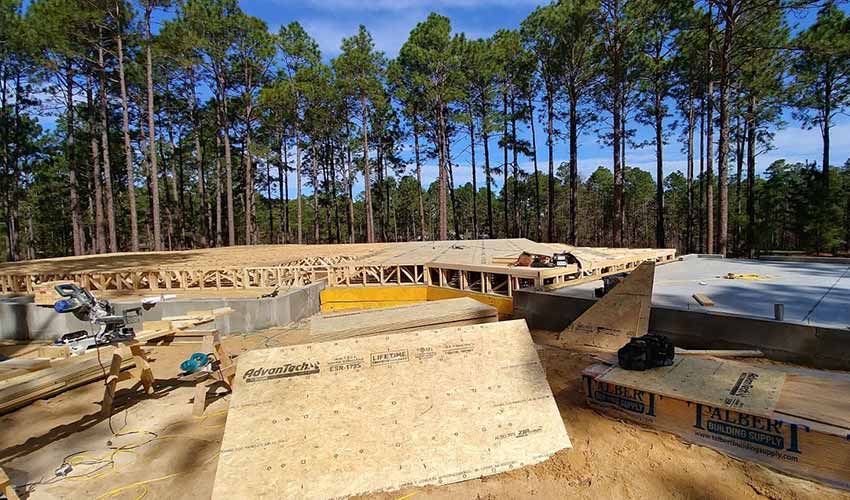 With so many choices of building materials and house components and parts available today, how can you ever know which is best for your home building or remodeling project? The answer comes from learning what you can expect of the materials or building components, deciding what you want to pay, and thinking about what suits your house design or remodeling project.
The first consideration in choosing building materials and parts for your house is cost. It's good to remember that cost is a relative term. With building materials, as with most things we buy, the less expensive something is initially, the shorter its life-span usually is. Some things that are less costly when you first buy them can turn out to be very expensive in the long run if you must keep maintaining and replacing them. There are some exceptions to this rule, but most of the time you can count on replacing or repairing the less expensive item sooner than the one that costs more at the outset.
Unless your budget is extremely limited, I suggest you consider the "life-cycle cost" method of analysis.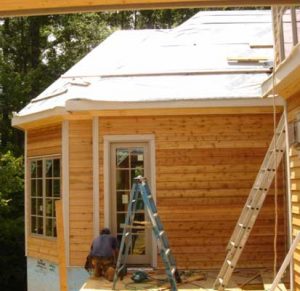 Life-cycle cost refers to the actual cost of a building material over a period of time. For example, if roof shingle A cost 75% of what roof shingle B cost, but roof shingle B will last twice as long as shingle A, shingle B will actually be cheaper over the time frame of two installations of shingle A. Shingle B's life-cycle cost is lower because one installation of it is cheaper than two installations of the other over its life-cycle. If you plan to own your house for more than a few years, you'll want to consider the cost of building materials and building components in this way.
Another life-cycle cost consideration is the cost of energy. Less costly windows may not be as energy efficient as more expensive windows. The energy savings of better windows, better insulation, or a more efficient heating and air conditioning system might offset much of the initial cost over time.
But cost is not the only factor you should use when selecting building materials or components. The aesthetics are extremely important. Only you can put a value on how something looks.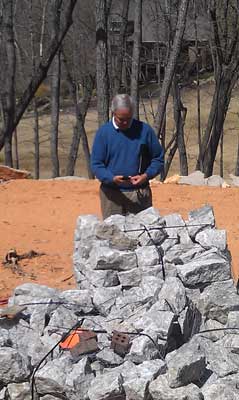 We all make these decisions from different viewpoints. Are shingles with a thicker, slate-like look worth the extra money? They might be if your house has a prominent roof. A good looking roof material might be the pivotal factor in making sure the house will look great.
Maybe your house needs the solid look of stone masonry. This is one of the most expensive materials of all. Most of its cost is in the labor to install it. Stone masonry is slow to erect. And because it's heavy, the higher up on the wall it goes, the more costly it gets. Is it worth the cost? It might be if your house depends on the appearance of stone for its style and character. Or you might simply like it. That alone can make one material better than another for your particular house.
Building Materials, Components, and Parts You'll Have to Choose
Throughout my website, we'll take a look at most of the building materials, components, and parts you'll have to choose from. I'll offer comments, advice and suggestions, just as I do for my clients, to help you gain the knowledge you need to make the right choices. Often the decisions you must make are not easy, at first. But, if you consider things carefully, ask questions, and do your homework, you can be sure your home building budget will go toward the things that are worthwhile to you and best for your house. We'll start from the ground up.
Basements and Foundations 
Is it worth building a basement? That will depend on the slope and soil type of your building site. If feasible, the relatively small added cost of a basement can give you a lot of usable space. Should it be concrete block, poured concrete, or precast concrete panels?
House Framing 
Wood framing is most common structure of houses in the United States. But steel framing and concrete block are gaining in usage. What are the pros and cons of each? What benefits are there with engineered lumber and construction adhesives?
Siding 
There are many types, including wood siding, composite siding, fiber cement board, vinyl siding, stucco, and masonry. The cost range is wide and the life cycle is extremely important.
Brick Siding 
Brick offers a very long, maintenance-free life and can properly be considered a "green" building material. But it can be expensive to construct. What factors affect its cost and how do you guarantee it will look right when it's installed?
Stone Veneer 
All stone we build with today is a veneer. What we call "real" stone is a 4" to 6" thick veneer of quarried stone. Cultured, man-made stone is only about an inch or two thick and is adhered to the wall framing with special adhesives. Both types of stone have benefits and shortcomings.
Windows and Patio Doors 
You could write a book about all the options available in windows and exterior patio doors. And I practically have. House windows are highly engineered and sophisticated building components. They are a key player in energy efficiency, maintenance, and the appearance of your house.
Front Doors 
Front doors are one of the few remaining places where you can create a unique, custom design for your home without spending a ridiculous amount of money. Your front door and the entire entrance way make a statement about your home and it sets an aesthetic tone. Choose from many pre-designed entrance doors or have some fun and create your own.
Roofing Materials 
Asphalt shingles, wood shingles, metal roofing, cement tiles, and even rubber roofing are available. And like most building materials, the price range is wide. The look and utility varies considerably, too. It's not always a simple decision. And there are energy issues to consider.
Interior Doors 
This is an area where technology has improved on the traditional solid wood door. We'll look at composite, MDF doors, solid doors and hollow doors and examine the merits of each.
Drywall 
This seems like a simple item and should not warrant much discussion. But beyond the physical properties of its strength, moisture resistance, and fire resistance, there are several finishes to consider, too.
Hardwood Floors 
I have some of my most in depth discussions with clients about hardwood floors. You have more than simply standard-width oak to choose from. There are many tropical woods, from sustainable sources, that offer interesting appearances and high durability. Engineered hardwood flooring has many virtues and may be a better choice than solid wood planks.
Tile Flooring and Wall Tile 
Beyond ceramic tile, there are many choices in stone tiles and porcelain tiles available. Which one is best for your application?
House Paint 
Both interior and exterior house paint has changed in recent years. Sustainability and environmental responsibility in building materials have raised new concerns about off-gassing and chemical content. We'll look at what questions you should ask and what benefits each type of paint will offer.
Kitchen Cabinets and Bathroom Cabinets 
From totally custom cabinetry to factory made cabinets, you again have almost unlimited choices. Where is the three-way balance of cost, appearance, and function that meets your needs? There is a "language of cabinets" you need to know to make the best choices.
Door Hardware 
With so many styles, finishes, and functions of door handles and hinges to choose from, you will want to understand what you're getting for your money. Some choices for your exterior doors may be limited. Early planning can assure that your interior door hardware will be compatible with your exterior hardware.
Shower Enclosures 
Full-framed, semi-frameless, or frameless. Which one is best for your shower? And then there are all those glass choices.
Deck Materials 
It's not just pressure treated wood anymore. You can choose from composites and tropical woods, too.
Driveway Pavers 
If you want to add some elegance to your home, take a look at some of the pavers for driveways and walks. You might be able to get the cobblestone look at a fraction of the cost. Plus, pavers can remove the risk of cracks in your driveway.
For other house parts and building materials, please explore other areas of this website. You'll find information in the Kitchen Design, Bathroom Design, Interior Design, Heating and Air Conditioning, Plumbing, Home Electrical, Home Lighting, and other sections that cover many other products and materials.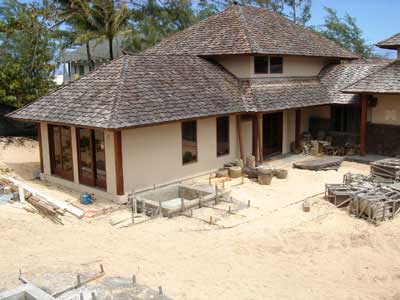 More Building Materials Topics