A "Magic Corner" Makes Kitchen Corners More Usable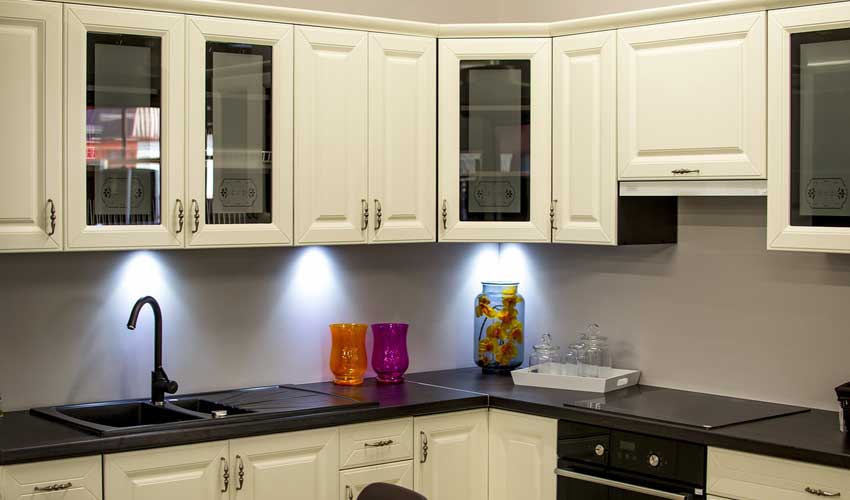 Ugh! I hate wasting that space in the corner base cabinets in kitchens. The term "base cabinet" is the term the kitchen industry uses when referring to the cabinets below the counter top. When base cabinets are arranged in an "L" configuration, you end up with a "dead" corner with no easy way to access it. Is there a good solution to this dilemma? Is there a way to make this space more usable?
The standard corner base cabinet in a kitchen can contain a lot of storage room, often as much as sixteen cubic feet. But typical corner base cabinets always seemed like an inefficient use of available space. These kinds of cabinets are hard to reach into without crawling on you hands and knees. Then you have to reach back into the darkness to retrieve long lost items. Installing lazy Susans is the traditional solution to make corner base cabinets more useful. They help some, but they still leave much of the space unused. And when something falls off of the Lazy Susan shelf into the back of the cabinet, it might not be found until the next decade.
But there is at least one solution that effectively recoups this unused storage space. It is called the Magic Corner. Although it is certainly not magic, it is quite ingenious. Here's how it works. When closed, it looks like an ordinary base cabinet. When you open the door, you see a couple of shelves.
But these are not ordinary shelves. The Magic Corner cabinet uses a clever configuration of shelves that are easier to access. This particular Magic Corner is on display at Kitchen and Bath Galleries in Cary, NC.
Both shelves can pull in and out, giving you easier access. But they don't stop there. Keep pulling the shelf out and it swings around letting you access the deep recesses of the corner base cabinet. It's hard to believe there are shelves that large behind a cabinet door that is so small. It's almost as if you are able to fit the proverbial ten pounds into a five pound bag!
With the help of the Magic Corner, there'll be no more abandoned kitchen supplies or fallen canned goods left behind in what used to be dead space in a corner base cabinet.
More Kitchen Design Topics