A Question about Refinishing Kitchen Cabinets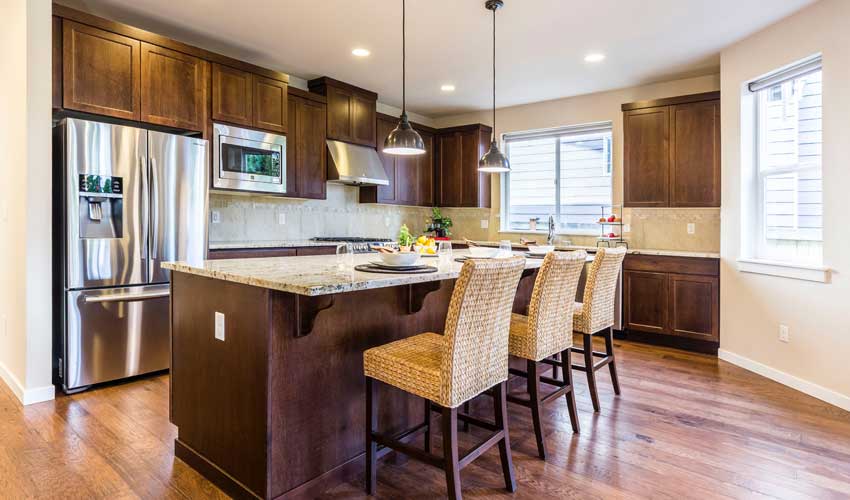 I received this question concerning changing the color on existing kitchen cabinets and I thought I would share it with everyone. I get a lot of questions regarding cabinet colors, wood flooring selections and how they should "work together." The question was:
I have new medium cherry cabinets in a new home that we have just purchased. I would like them to be much darker. Is it possible to do this without refinishing the cabinets? What wood for flooring would you suggest to complement/contrast the darker cherry cabinets?
My answer:
To change the color of cabinets usually means you would need to refinish the cabinets to some degree, depending on their condition. Since yours are new and in good shape, you could clean the surfaces and apply a polyurethane finish with an integral stain over the finish you already have. Minwax Polyshades is one of these products. This would mean that you would not have to strip and sand the existing doors and cabinets. So if that's what you mean by "refinish," then the answer is, "No," you won't have to refinish new cabinets to change the color. You'll merely have to add a colored finish on top of the existing finish. Just be sure to follow the directions exactly. Don't skip any steps. You might try samples of colors on the backs (insides) of the doors before doing any of the fronts. That way you'll see what you'll get in an inconspicuous place.
As far as wood flooring choices go, take a look at the medium to lighter woods, like white oak or even reclaimed heart pine. Don't go dark with the floor if you are darkening your cabinets. Try for a nice, eye-pleasing contrast between the woods. I'm not sure where you're located and what is available. But with the smooth cherry cabinets, you could select a flooring that has an "active" and interesting grain pattern, if you like. If oak is too grainy, take a look at rift sawn and quarter sawn oak before rejecting it. Normal, plain-sawn oak can have arch-shaped grain patterns that some folks don't care for. Rift-sawn and quarter-sawn oak has a beautiful straight grain look and accents of what are called medullary rays, or pith rays. Rift sawn oak is one of my favorites. My mantel and adjoining cabinets in my family room are built of this wood.
I hope this helps. Good luck with your project.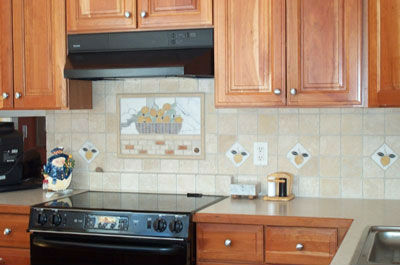 More Kitchen Design Topics