Kitchen Cabinets and Wood Floors – A Grainy Question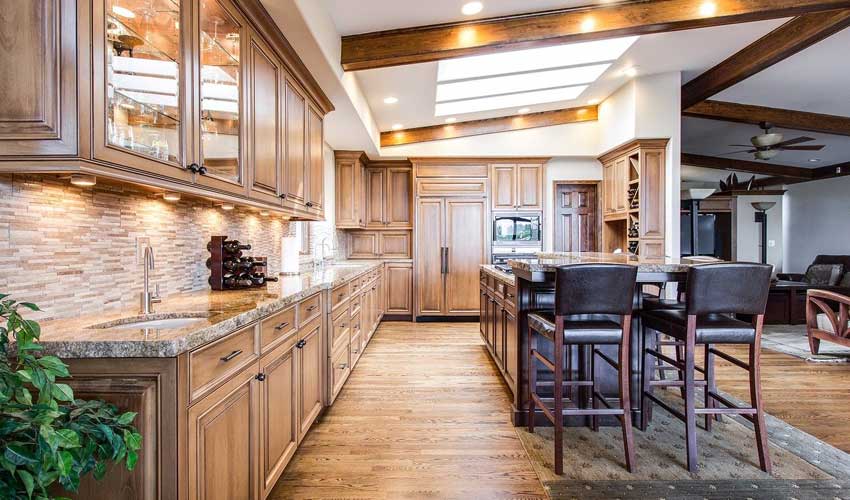 If you have wood floors in your kitchen and a natural wood finish on your kitchen cabinets, should the floors and cabinets be the same species of wood and the same color or should they contrast? And if they should contrast, which should be the darker color?
I often discuss this issue with my clients. My feeling is that there needs to be some color distinction between the flooring and the cabinetry so that the cabinets don't look like the floor is simply wrapping itself up the walls. After all, one is the floor and the other is essentially furniture and they should express themselves differently. I would suggest that there is no rule about which wood is the lighter or the darker.
But I would also say that you need to consider the grain of both woods. This characteristic of the wood is often overlooked. If your flooring has a busy or strong grain, like oak, hickory, or even an antique pine, a smoother grained wood, like cherry or clear alder would be best for the cabinets. This will keep you from being overwhelmed with too much visual activity in the wood grain. I also think that the flooring is the place for the strong grained wood and not the cabinets.
In my book, Designing Your Perfect House: Lessons from an Architect, I discuss this very issue. Here's a photo of a kitchen where I used cumaru teak for the flooring, with a fairly strong grain, and quarter-sawn oak for the cabinetry. Oak is normally a pronounced grain when plain sawn, but when rift or quarter sawn, the grain is smoother and much more refined. The combination worked out very nicely.
Click on the comment bar to tell us your story.
499 Comments
More Kitchen Design Topics