Small Kitchen Design is a Puzzle Waiting to Be Solved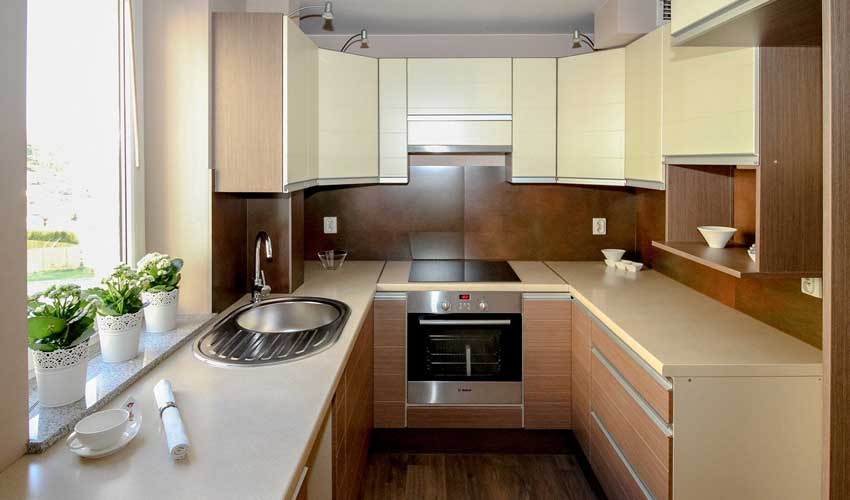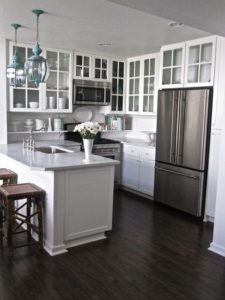 A small kitchen design is a tough challenge. The kitchen is the most complicated room in any house. Small kitchens should still follow the planning principles of any good kitchen design. They must hold many different items, such as appliances, sinks, work surfaces, eating areas, and storage cabinets. They need to be workable and facilitate food preparation and cleanup. They need electrical connections, water and sewer connections, possible gas connections, and ventilation. They also need daylight, electric light and doorways to connect with other rooms. Fitting all of this together in a normal sized room or space is tough enough. Cramming everything into a small kitchen design sometimes feels like solving Rubic's Cube.
Careful planning and creative thought are essential. Some basic rules and objectives for small kitchen design are:
Minimize open floor space
Maximize cabinet space
Maximize countertop space
Don't over-size appliances
Strive for multiple use of spaces and surfaces
Borrow space from other rooms
Minimizing open floor space means that you should design the spaces between countertops and cabinets to be as small as they can be and still be workable. Every inch you take out of the open floor space can be devoted to additional countertop or cabinet space. Aisles between countertops can be as narrow as 36" and still be workable. Even in big kitchens, I try to not let aisle spaces exceed 48" because if there is any more distance than that, an additional step is required to get from one side to another. Extra steps make a kitchen hard to work in. A snug kitchen with narrow open floor areas is arguably a more efficient kitchen to work in.
Maximizing cabinet and countertop space is the flip side of minimizing open floor space. When developing a small kitchen design, you are either striving to minimize the size of the kitchen for budget reasons or you simply have only a small space to work in. Either way, you can't afford to throw away space. Your small kitchen design needs to be like the design of a submarine. Every nook and cranny should serve a purpose.
One way to gain some additional cabinet space is to use taller upper cabinets. Standard upper cabinets are 30" tall. Upper cabinets are set at 18" above the countertop and standard base (lower) cabinets are 36" high. That means in a standard setup, the top of the upper cabinets will be seven feet from the floor. Most rooms have eight-foot high ceilings, or higher. There is space above a standard height cabinet that you can use. If you buy 42" upper cabinets, which are readily available, you will gain twelve more inches of storage space in your upper cabinets. That top shelf will be unreachable without a step stool, but it will be a perfect place to store the things you need to use only occasionally. You can move them out of the way and open up more easily reached cabinet space for your daily use items.
Base cabinets with pull-out shelves hold more than standard base cabinets with fixed shelves. And they make it easier to reach the objects inside the cabinet. Drawers are often more useful than standard base cabinets with doors. A standard base cabinet will have one drawer and two shelves behind doors. A base cabinet that has a stack of four drawers will give you 33% more useful storage space. To make the most of the base cabinet space you have available, only include just enough standard base cabinet space for the tall items you need and use drawer units everywhere else.
Another way to maximize the usefulness of the cabinet storage space you have is by using some of the cabinet organizers that are available. Drawer dividers, pull down units that fit beneath your upper cabinets, slide out and swing out shelves and racks, and even an under-cabinet mounted radio and iPod player help you put things in their places and free up work surfaces.
Maximizing counter space will give you more work surface. Even though you are creating a small kitchen design, you still need to provide countertop space next to the sink for laying down both dirty and clean dishes, space next to the range for use while cooking, and space near the refrigerator for placing things you are taking in and out of the refrigerator.
Small kitchen designs don't have room for large appliances. Look for ranges that give you all you need in a small space. There are some cleverly designed ranges that give you lots of burners and interchangeable elements for griddles and grilles giving you the versatility of a large range in a small space. Ranges are better than cooktops in a small kitchen design because they combine two appliances, a cooktop and an oven, in one. You won't need to use up precious cabinet space for a wall oven. But if you absolutely must have a second oven, consider buying a combination oven that is a microwave and a conventional oven in one.
Refrigerators are the largest appliance in any kitchen. Consider how large a refrigerator you really need. If you have a garage, maybe you could put a second, inexpensive refrigerator in the garage to hold bulky items or your stock of Dr. Pepper and free up space in your primary refrigerator. Refrigerators are deeper than your base cabinets and countertops. So be sure to place them where they will not protrude into the floor area and interfere with circulation.
The space you have available will go further if you can find ways to let it serve double or triple duty. Your countertop space that serves the cooking area might also be used for holding the dirty dishes while you're cleaning up. If you plan on including some bar-type eating space, that same surface could be used for holding dishes awaiting washing or space to spread out while baking. Glass-topped electric ranges and cooktops can serve as additional counter space when cool.
Because a small kitchen design is limited in floor area, it can feel confining after you pack all of the cabinets and appliances into it. To make the small space feel larger, consider adjoining it to, or combining it with, another space. Instead of having a kitchen space plus separate nook or breakfast table, maybe the table could sit in the middle of a larger room and serve as additional kitchen work space as well as function as the family dining table. Or maybe instead of a traditional table and chairs for the in-kitchen eating space, you might consider a booth or a partial booth arrangement with a bench on one, two or three sides and chairs on the other side(s). This will allow the table to be placed closer to the wall on the bench side and save floor area.
Open plans are very conducive to a small kitchen design. The kitchen might simply be placed along one or two walls and the dining table and chairs could be placed between the kitchen arrangement and the living space of the large open space. In this manner, the area needed around each function, the spaces I call the "walk around" space, can be combined and reduced. The area you need to get in and out of the dining chairs can also serve as the aisle space needed in the kitchen and the space between the dining space and living space will make both spaces feel larger.
Small kitchen design takes a great deal of thought to get right. Don't be rushed. Take the time to think about all of the things your kitchen will do and how you'll move within the space. The more you can "virtually" live in the space, the better decisions you will make as you design it.
More Kitchen Design Topics