Built-In Refrigerators – Handles for Paneled Doors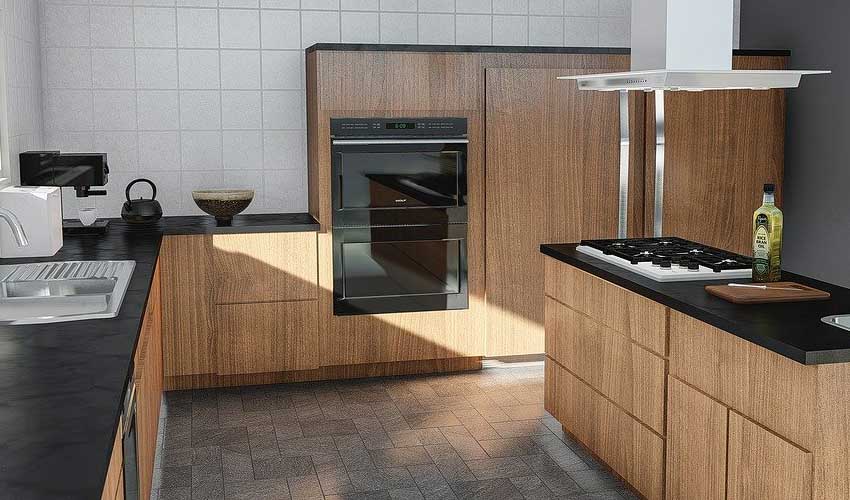 Sub-Zero, Liebherr, GE Monogram, and other "cabinet depth," built-in refrigerators are increasingly popular in the high-end market. These refrigerators provide a number of desirable features, such as humidity controlled compartments, specially controlled drawers for fine-tuning the temperature for delicate foods, snack drawers, and independent compressors for the freezer and the refrigerator so that there is no shared air between the two chambers. However, I think the greatest appeal is the fact that these refrigerators are the same depth as the lower kitchen cabinets.
Ordinary refrigerators are six or eight inches deeper than the lower cabinets and countertop causing them to stick out into the room, thus ruining the lines of the kitchen design and just plain getting in the way. A built-in type unit will sit back more, with its doors flush with the other cabinets so they become less obtrusive. Each manufacturer offers several models that have doors you can cover with panels that match your other cabinetry. This is what you see in showplace kitchens.
But there is one little potential pitfall you need to be aware of. The refrigerator manufacturers offer only a limited selection of handles for the doors. Chances are, the style and the finish of these door handles will not match or be compatible with your cabinet door handles. You might not like that look.
The solution is not as simple as merely putting the same cabinet door handles on the refrigerator and freezer as you have on the other cabinets. I've seen this done and it ends up looking rather silly. Cabinet door handles are much too small to look like the right thing to be pulling hard on to open the large doors of a refrigerator or freezer.
Here's what you need to do. Make sure your cabinet handle selection has compatible, but larger, handles for your paneled refrigerator front before you finalize your cabinet door hardware choice. These are more and more available. I guess the hardware manufacturers are recognizing the problem.
Click on the comment bar to tell us your story.
More Kitchen Design Topics